Different Strokes! Performing Arts Collective Inc. is a 501(c) 3 certified non-profit organization which purposes to increase and sustain opportunities for more diversity within the Western North Carolina performing arts community, by producing, and working with other performance artists or groups to present works which confront issues of social diversity in a provocative way; and by providing opportunities for audiences to explore visions of our diverse world.
Read More About What We Do
Different Strokes! News
As Different Strokes embarks on their 6th and what may well be their greatest season, Steph invites you to consider the benefits of additional advertising for your business, and add Different Strokes to your 2016 advertising budget.
Support Different Strokes Performing Arts Collective by shopping online this holiday season! Shop via our Shop.com link and not only do we receive a portion of the sale, you can earn cash back!
Visit our Facebook page to stay up to date on what is happening with Different Strokes!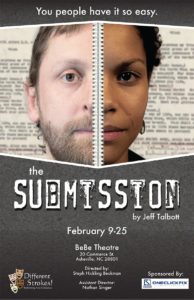 written by Jeff Talbott
February 9-25, 2017
Can a writer tell a story about the hardships of a life he's never had to experience himself?
Should
he? 
If you're Danny, a struggling playwright with years of rejection under your belt, you might think it's your right — no, your
duty
— to tell that story. To submit your latest work (which you know is a masterpiece) and stand beside it, no matter what anyone thinks. 
Or… you might decide it'd be better for you to assume a false identity and hope no one catches on. 
So begins
The Submission
, the opening show in Different Strokes! Performing Arts Collective's 7th season.
Since
#OscarsSoWhite
, the theatre and Hollywood have been criticized for their lack of diversity and whitewashing of characters. But is the attempt to diversify the stories we tell just another example of cultural appropriation?
In other words — is it okay for a white writer to tell a black story?
(Danny thinks, probably not.)
Throughout
The Submission
, Danny, Pete, Trevor and Emilie must confront the ugliness of casual racism and the shock of how deeply they misunderstand each other — but they'll have to work together to keep the truth from coming out.
We can't tell you much more about the plot without spoiling it, but we
can
say that it crackles with tension, from opening scene to curtain call.
Managing artistic director (and director of
The Submission
) Steph Hickling Beckman, says, "I'm particularly excited about this play, 1) because of the questions it poses to the theatre community as a whole, and 2) it comes on the heels of last season's
Rasheeda Speaking
, where, during one of our Post Show Discussions, we revealed that the writer of the play — about the inner turmoil of a black woman living in 'post racial' America — was a white male."
A portion of the proceeds from
The Submission
will go to Asheville Writers in the Schools (AWITS), a local non-profit that connects working writers with students, teachers, and community members to foster critical literacy skills, confident imaginations, and equitable relationships.
Not only does Different Strokes! consistently seek out controversial and provocative plays, they seem to have a knack for pushing just the right buttons at just the right time — which is exactly what they've done with
The Submission.
Tickets are $18 in advance, and $21 at the door. A new online ticket vendor means no more fees for online ticket purchases (yay!). Tickets for opening weekend, which starts on February 9th, are only $15.
The Submission
features:  Jon Stockdale, Kirby Gibson, Travis Lowe, and Maximilian Lee Koger
Tickets are on sale now. Special Discount available for opening weekend!
Our most entertaining show of the year! And our Annual Fundraiser. 5 Lesbians Eating a Quiche is brilliantly funny and sure to be an audience favorite!
written by Evan Linder and Andrew Hobgood
June 15-July 1, 2017
Winner 2012 NYC International Fringe Festival, Best Overall Production
"5 Lesbians Eating a Quiche is a yummy piece hosted by five leaders of the Susan B. Anthony Society for the Sisters of Gertrude Stein. This bubbly bunch of 1950s chicks are all self-described "widows" living  in an unnamed middle-American town.  They are  meeting in a renovated community center for their annual breakfast, where the prize-winning quiche will be declared in a much-anticipated ceremony. The pending Communist threat of atomic attack forces the women in this idyllic American town to begin sharing their deepest secrets, which lead to some not-so-shocking confessions from the society's leaders.   Will they be able to keep their cool and preserve their history as the Red Menace closes in?"