Different Strokes! Performing Arts Collective Inc. is a 501(c) 3 certified non-profit organization which purposes to increase and sustain opportunities for more diversity within the Western North Carolina performing arts community, by producing, and working with other performance artists or groups to present works which confront issues of social diversity in a provocative way; and by providing opportunities for audiences to explore visions of our diverse world.
Read More About What We Do
Different Strokes! News
As Different Strokes embarks on their 6th and what may well be their greatest season, Steph invites you to consider the benefits of additional advertising for your business, and add Different Strokes to your 2016 advertising budget.
Support Different Strokes Performing Arts Collective by shopping online this holiday season! Shop via our Shop.com link and not only do we receive a portion of the sale, you can earn cash back!
Visit our Facebook page to stay up to date on what is happening with Different Strokes!
Annual Fun Raiser
5 Lesbians Eating a Quiche
Our most entertaining show of the year! And our Annual Fundraiser. 5 Lesbians Eating a Quiche is brilliantly funny and sure to be an audience favorite!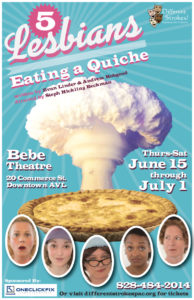 written by Evan Linder and Andrew Hobgood
June 15-July 1, 2017
Winner 2012 NYC International Fringe Festival, Best Overall Production
5 Lesbians Eating a Quiche is our 3rd Annual Fun-Raiser. Please consider joining us for our opening weekend Cocktail Hour, (June 17th) where you'll enjoy complimentary beer, wine, appropriately heavy hors d'oeuvres, and a chance to mingle with the leaders of the Susan B. Anthony Society for the Sisters of Gertrude Stein. Click Here To Read More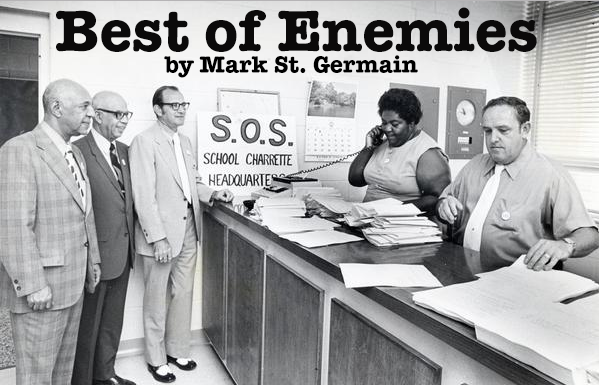 Best of Enemies
written by       Mark St. Germain
August 17-September 2, 2017
Based on the best-selling book by Osha Gray Davidson, The Best of Enemies is a true story about the relationship between C.P. Ellis (a Grand Cyclops of the KKK) and Ann Atwater (an African-American civil rights activist) during the desegregation of the Durham, NC, schools in 1971. The Best of Enemies exposes the poison of prejudice in the hearts of Atwater and Ellis who, by facing each other, are forced to face the worst, and best, in themselves.