Different Strokes! Performing Arts Collective Inc. is a 501(c) 3 certified non-profit organization which purposes to increase and sustain opportunities for more diversity within the Western North Carolina performing arts community, by producing, and working with other performance artists or groups to present works which confront issues of social diversity in a provocative way; and by providing opportunities for audiences to explore visions of our diverse world.
Read More About What We Do
Different Strokes! News
Wondering What's on Stage for 2016? Stay tuned for an announcement!
Visit our
Facebook
page to stay up to date on what is happening with Different Strokes!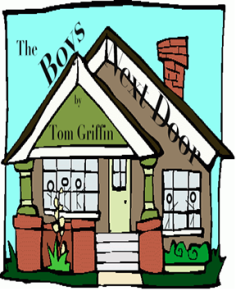 by Tom Griffin
Directed by Steph Hickling Beckman
Produced by Different Strokes! Performing Arts Collective
The Beneficiary of This Production is Paws On ASD
The Boys Next Door is a touching and humorous look into the lives and relationships between four male roommates with special needs, living under the watchful eye of a compassionate, but "burned-out," caretaker. Mingled with scenes from the daily lives of these four, where "little things" sometimes become momentous (and often very funny), are moments of great poignancy when, with touching effectiveness, we are reminded that the handicapped, like the rest of us, want only to love and laugh and find some meaning and purpose in their lives. Norman, who works in a doughnut shop and is unable to resist the lure of the sweet pastries, takes great pride in the huge bundle of keys that dangles from his waist; Lucien P. Smith has the mind of a five-year-old but imagines that he is able to read and comprehend the weighty books he lugs about; Arnold, the ringleader of the group, is a hyperactive, compulsive chatterer, who suffers from deep-seated insecurities and a persecution complex; while Barry, a brilliant schizophrenic who is devastated by the unfeeling rejection of his father, fantasizes that he is a golf pro. This poignant story draws a parallel between the perceived simplicity of these men's lives and the perceived complexity of the life of their social worker.
November 5-21, 2015 (Thur-Sat 7:30) The Be Be Theatre 20 Commerce St.