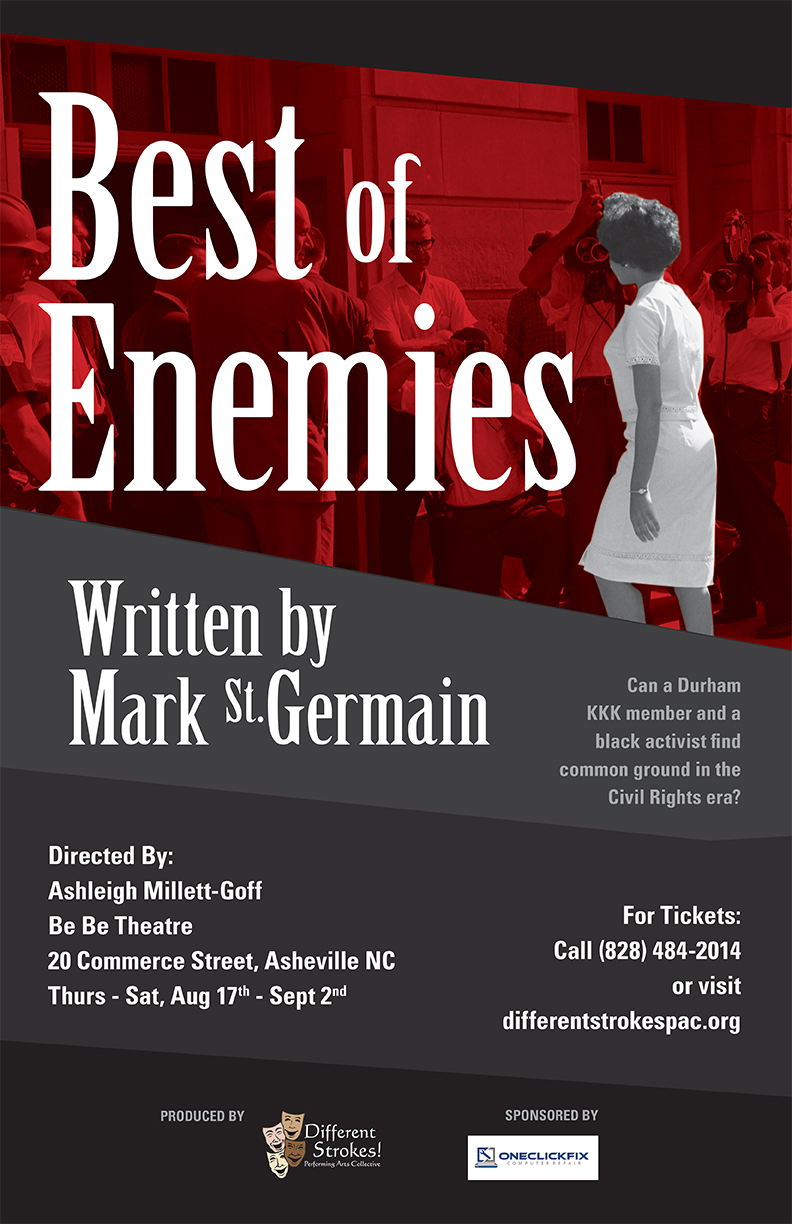 Best of Enemies
written by Mark St. Germain
August 17-September 2, 2017 All Performances begin at 7:30 pm
On the heels of the successful 5 Lesbians Eating a Quiche, by Evan Linder and Andrew Hobgood, Different Strokes! Performing Arts Collective tackles not only a more serious issue, but one much closer to home. Through Best of Enemies, ​the 3rd show of their 7th season, audiences are presented with a seemingly simple, yet historically complicated question "How can two people with widely opposing viewpoints find common ground within the context of their differences?"
​Osha Gray Davidson's The Best of Enemies: Race and Redemption in The New South, chronicles a friendship that developed in 1970 between two people who began as bitter enemies–black activist Ann Atwater (Janet Oliver) and white Grand Cyclops of the Durham North Carolina chapter of the ​Ku Klux Klan, C.P Ellis (Sean David Robinson). Mark St. Germain's play, Best of Enemies, brings the story of this "unlikely friendship" to the stage against a Civil Rights backdrop.
Best of Enemies will run Thursday, Friday, and Saturday evenings from August 17th – September 2nd, 2017, at Be Be Theatre, located at 20 Commerce Street.
Tickets are $18 in advance, and $21 at the door. Advance tickets for opening weekend, (August 17-19), are $15. PAY NO FEES for online purchases (taxes are applicable).
Best of Enemies is directed by Ashleigh Millett-Goff, and features: Sean David Robinson, Janet Oliver, Bjorn Goller, and Molly Graves
Purchase Tickets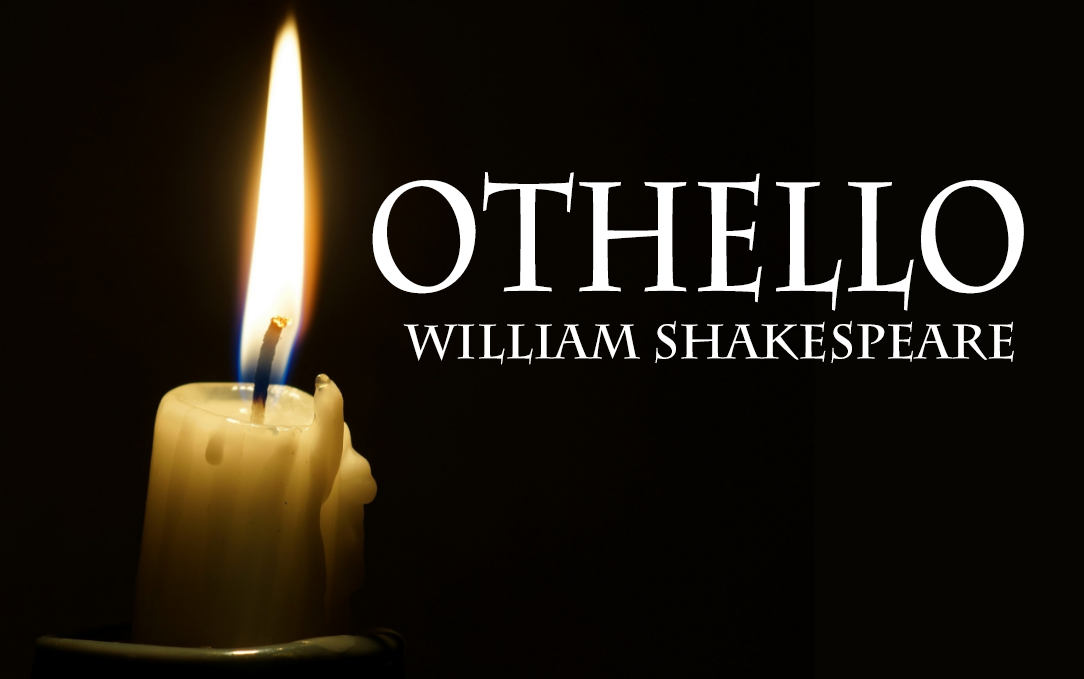 Presented in partnership with The Montford Park Players
"This great tragedy of unsurpassed intensity and emotion is played out against Renaissance splendor. The doomed marriage of Desdemona to the Moor Othello is the focus of a storm of tension, incited by the consummately evil villain Iago, that culminates in one of the most deeply moving scenes in theatrical history."
Introducing Asheville's Newest Performing Arts Venue: The DownStage
The (New)Home of Different Strokes! Performing Arts Collective - Coming in Spring 2018
Different Strokes! Performing Arts Collective is on a mission to raise $30,000.00 through major gifts and patron donations. 100 percent of all donations will be ear-marked toward renovations and equipment, specifically for The DownStage (Black Box Theatre). As one of 4 venues in Asheville, dedicated to the performing arts, this 100+ seat venue, will serve as a permanent home for Different Strokes!, and as an additional performance and rehearsal venue for other performing arts groups. This community-centered Performing Arts Theater, located in the thriving South Slope district of Asheville is located on Church Street, within walking distance of several restaurants and breweries. We invite you to help us continue our legacy of inclusion, community building, and exciting programming, with your gift or pledge of cash or marketable resources. Every gift is important toward reaching our goal of $30,000.00. As a donor, you will be recognized in a manner consistent with your level of giving. Your gift may even give you the opportunity to name a space, place or seat  in our new facility. Give to become apart of an Asheville legacy.
Watch our progress and be inspired along with us as we grow!
Provided by CoolFundraisingIdeas.net
Different Strokes! Performing Arts Collective Inc. is a 501(c) 3 certified non-profit organization committed to Making Theatre, Building Community, Changing The World, One Play at a Time. We believe that audiences look to the arts to see beyond themselves and their own boundaries. We believe the arts are a valuable educational tool capable of bridging cultural and social gaps. We believe the arts are a catalyst for social change and transformation. We will  increase and sustain opportunities for more diversity within the Western North Carolina performing arts community, by producing, and working with other performance artists or groups to present works which confront issues of social diversity in a provocative way; and by providing opportunities for audiences to explore visions of our diverse world.
Read More About What We Do