Different Strokes! Performing Arts Collective Inc. is a 501(c) 3 certified non-profit organization which purposes to increase and sustain opportunities for more diversity within the Western North Carolina performing arts community, by producing, and working with other performance artists or groups to present works which confront issues of social diversity in a provocative way; and by providing opportunities for audiences to explore visions of our diverse world.
Read More About What We Do
Different Strokes! News
As Different Strokes embarks on their 6th and what may well be their greatest season, Steph invites you to consider the benefits of additional advertising for your business, and add Different Strokes to your 2016 advertising budget.
Support Different Strokes Performing Arts Collective by shopping online this holiday season! Shop via our Shop.com link and not only do we receive a portion of the sale, you can earn cash back!
Visit our Facebook page to stay up to date on what is happening with Different Strokes!
Original by George A. Romero and John Russo
Adaptation and Direction by Rodney Smith
November 3-19, 2016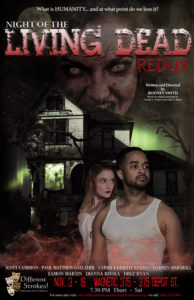 In 1968, the independent horror film Night of the Living Dead did more than just frighten a few audience members.  It may have single-handedly been responsible for what we today know as "Zombie Culture" and has exceeded its "cult classic" status, to simply… classic. While this may seem an odd choice of material for Different Strokes! Performing Arts Collective, a theater company known for its socially relevant and thought provoking plays, Steph Hickling Beckman, the company's Artistic Managing Director is quite certain that this adaptation trains a lense on issues that are timely, relevant,and reflective of the company's nature: "Producing Rodney's version of this popular script is very much in keeping with our mission statement, which is to produce plays which confront issues of social diversity, in a provocative way. In this adaptation, there is more focus on how the living affect each other, than how they are impacted by the dead". "There is something deeper in the material beyond a zombie story. At its core, this is a story about a group of people, each with very different backgrounds, who must find a way to get past how they perceive each other in order to survive. It's a microcosm of society which may be more relevant today than it was in 1968." adds Rodney Smith, the show's director, and playwright responsible for this stage adaptation. "I have always loved the original film and have wanted to bring it to the stage for the last three or so years. I always thought there was a different and more interesting story to tell". Although the narrative is essentially the same as the original film, the script has been adapted for the stage and augmented to dive deeper into the relationships, motives and resolves of the characters. It promises not to be the "campy" version some have come to think, but a dark, intense dramatic thriller. It will pose to their audience two simple questions with more than a few complex answers:  What is humanity… and at what point do we lose it? Under the stage direction of Rodney Smith, Night of The Living Dead features           Scott Cameron, Paul Matthew Gallaher, Carrie Kimbrell Kimzey, Darren Marshall, Eamon Martin, DiAnna Ritola, and Drez Ryan. Performances run Thursday through Saturday evenings at 7:30pm. Audience Talk Back sessions follow Friday and Saturday performances (excluding Nov. 19th). photo courtesy of Rodney Smith
NIGHT OF THE LIVING DEAD - REDUX Written and Directed by Rodney Smith Based on original characters by George A. Romero and John Russo.
Featuring:
Coming Soon!