Different Strokes! Performing Arts Collective Inc. is a 501(c) 3 certified non-profit organization which purposes to increase and sustain opportunities for more diversity within the Western North Carolina performing arts community, by producing, and working with other performance artists or groups to present works which confront issues of social diversity in a provocative way; and by providing opportunities for audiences to explore visions of our diverse world.
Read More About What We Do
Different Strokes! News
We're excited to announce that for our 2015 season, we're continuing our partnership with the
Be Be Theater
 on
Commerce Street
for all of our shows.
Upcoming Auditions
Visit our
Facebook
page to stay up to date on what is happening with Different Strokes!
by Neil Labute
Directed by Steph Hickling Beckman
Produced by Different Strokes! Performing Arts Collective
The Beneficiary of This Production is Reclaiming Beauty
Two (2) casts give varying perspectives on Love and betrayal; Art and obligation; Sex and seduction; Beauty and body image.
In 2012 we produced A Lesson Before Dying with two cross-over casts in order to provide the audience with varying perspectives on the same issue, in regard to race and class.   In this production of The Shape of Things, we are using two entirely different casts, as we explore gender bias and sexuality in regard to relationship intimacy and sacrifice. Evelyn and Adam embark on an intense relationship that causes shy and principled Adam to go to extraordinary lengths to maintain a relationship with his new found love. In the process, Evelyn's subtle coaching results in Adam's complete transformation. The Shape of Things is an intense  study of human relationships interestingly coupled with the ethics involved in the relationship of art and life.
See one or both shows on Friday and Saturday nights, running back to back, at 7:30 and 10:00 or have the opportunity to see just one, on Thursday nights. 
Starring: Nathan Singer, Desmond Zampella (Adam); Meg Hale Brunton, Sam Stewart (Evelyn);. With: Maximillian Koger, Devyn Ray (Phil/Phyll); and Emily Crock, Allen Law (Jenny /Jamie) 
September 3-19, 2015 (Thurs. 7:30pm Fri-Sat 7:30pm and 10:00pm ) The Be Be Theatre 20 Commerce St.
Coming Soon!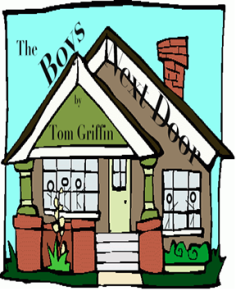 The Boys Next Door
by Tom Griffin
The Boys Next Door is a touching and humorous look into the lives and relationships between four male roommates with special needs, living under the watchful eye of a compassionate, but "burned-out," caretaker. Mingled with scenes from the daily lives of these four, where "little things" sometimes become momentous (and often very funny), are moments of great poignancy when, with touching effectiveness, we are reminded that the handicapped, like the rest of us, want only to love and laugh and find some meaning and purpose in their lives.