Different Strokes! Performing Arts Collective Inc. is a 501(c) 3 certified non-profit organization which purposes to increase and sustain opportunities for more diversity within the Western North Carolina performing arts community, by producing, and working with other performance artists or groups to present works which confront issues of social diversity in a provocative way; and by providing opportunities for audiences to explore visions of our diverse world.
Read More About What We Do
Different Strokes! News
As Different Strokes embarks on their 6th and what may well be their greatest season, Steph invites you to consider the benefits of additional advertising for your business, and add Different Strokes to your 2016 advertising budget.
Support Different Strokes Performing Arts Collective by shopping online this holiday season! Shop via our Shop.com link and not only do we receive a portion of the sale, you can earn cash back!
Visit our Facebook page to stay up to date on what is happening with Different Strokes!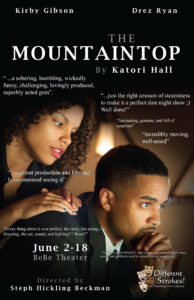 by Katori Hall
Directed by Steph Hickling Beckman
June 2-18, 2016
Great theater can emerge from a simple yet evocative question: "What if?" Katori Hall, winner of the Blackburn Prize for outstanding women playwrights, asks the question: What did Martin Luther King Jr. do the night before he died? Who did he talk to? What did he say? Her play attempts to answer these questions, albeit in an imaginative rather than realistic way. The Mountaintop, took home England's Olivier Award for best play.
Katori Hall, the Playwright, had this to say about the show: "This isn't the 'I have a Dream' King. This is a more radical King. This is King, the man; not the myth. I want people to see that this extraordinary man- who is actually quite ordinary- achieved something so great that he actually created a fundamental shift in how we, as a people interact with each other. That's a beautiful thing. And I want people in the audience to be like, 'if this man-who is so much a human being-can achieve such great things, then I, as this complicated human being, can create great things too' "
Starring Drez Ryan as Dr. Martin Luther King, and  Kirby Gibson as Camae
A Post Show Discussion immediately follows Friday and Saturday night performances.
*Early Bird Special: Purchase your ticket(s) by June 4th and pay no fees!!
Coming Soon!