Different Strokes! Performing Arts Collective Inc. is a 501(c) 3 certified non-profit organization which purposes to increase and sustain opportunities for more diversity within the Western North Carolina performing arts community, by producing, and working with other performance artists or groups to present works which confront issues of social diversity in a provocative way; and by providing opportunities for audiences to explore visions of our diverse world.
Read More About What We Do
Different Strokes! News
As Different Strokes embarks on their 6th and what may well be their greatest season, Steph invites you to consider the benefits of additional advertising for your business, and add Different Strokes to your 2016 advertising budget.
Support Different Strokes Performing Arts Collective by shopping online this holiday season! Shop via our Shop.com link and not only do we receive a portion of the sale, you can earn cash back!
Visit our Facebook page to stay up to date on what is happening with Different Strokes!
by David Mamet
Co-Directed by Steph Hickling Beckman and Sean David Robinson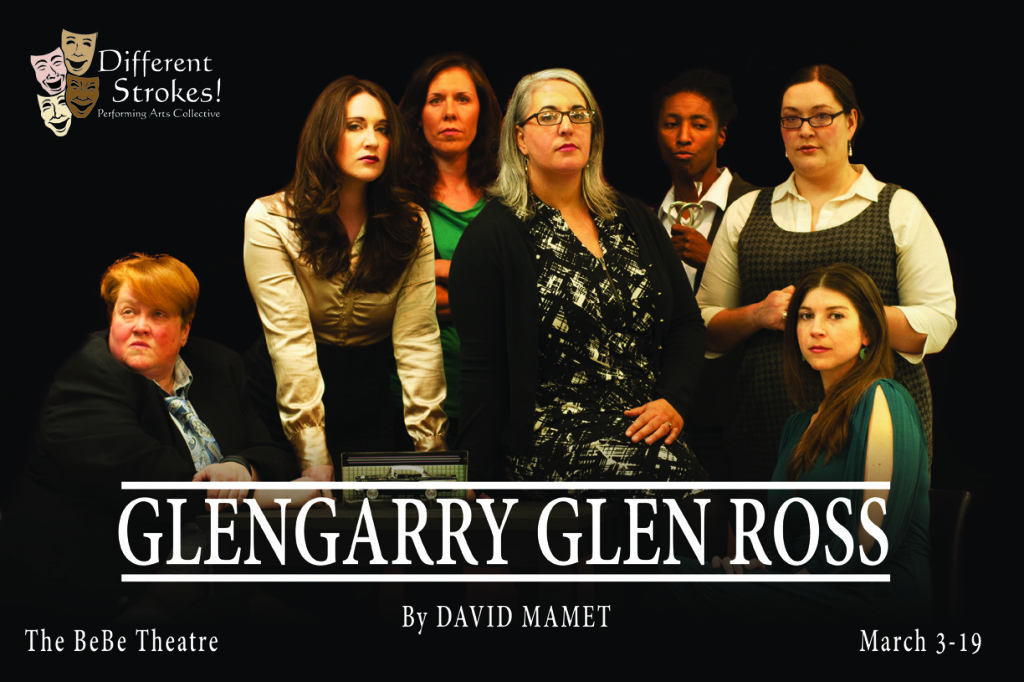 March 3rd-19th, 2016
Glengarry Glen Ross has been referred to as "Mamet at his very best". It is a play about small-time, and fairly desperate sales agents who are prepared to engage in any number of unethical and illegal acts (lies, flattery, bribery, threats, intimidation, and burglary) to sell undesirable real estate to unwitting prospective buyers. The action in the lives of these agents takes place in and around the sales office during the final two days of an office wide sales contest.  Glengarry Glen Ross saw its debut in London in 1983, premiering on Broadway in 1984; it was revived there in 2005 and 2012. Mamet adapted Glengarry Glen Ross, called a masterpiece of American drama, for film release in 1992. With the express permission of Mr. Mamet, Different Strokes' Performing Arts Collective's production features an all-female cast.
(read more and purchase tickets here)
Coming Soon!