TABLE 6
Written and Directed by Rodney Smith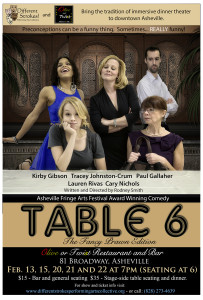 Table 6 is an original comedy written and directed by our own Rodney Smith. It is the Witty and fast-paced story of four women gathered for what is intended to be a festive engagement party. But preconceptions and misconceptions abound. When all secrets are revealed, they will each find that none of them are exactly who they expected each other to be, and will lead these misguided souls into the realm of the horribly and hysterically wrong.
Featuring: Paul Gallaher, Kirby Gibson, Tracey Johnston-Crum, Cary Nichols, Allison Tippins, and Lauren Rivas
February 13-22

FROM ASHES TO ANGEL'S DUST: A JOURNEY THROUGH WOMANHOOD
by Zoe Flowers
Directed by Steph Hickling Beckman , and Kristi DeVille, Choreographer

What happens when women create a safe place to confront issues of domestic violence, sexual assault, body image and self-love? Author, poet and domestic violence advocate, Zoe Flowers discovered magic happens, in the form of a dynamic, socially, and culturally responsible "Choreodrama" titled From Ashes to Angel's Dust: A Journey Through Womanhood. Flowers uses poetry, interlaced through vignettes, monologues and movement, to drive the stories of our mothers, daughters, sisters, grandmothers, and friends. From Ashes to Angel's Dust: A Journey Through Womanhood is for those silenced by violence, oppression, homophobia, shame or the impulse to please. From Ashes to Angel's Dust: A Journey Through Womanhood is for all who understand that loving another and one's self is a revolutionary act. This exciting play, designed to remove the veil from these taboo topics has had a number of successful staged readings in New York City; Hartford, CT; Silver Spring, MD and Philadelphia, PA. Ashes to Angel's Dust: A Journey Through Womanhood received rave reviews from domestic violence survivors and advocates alike, following its commissioned performance for the Florida Coalition Against Domestic Violence's Biennial Statewide Conference. The beneficiary of this production was The Black Church and Domestic Violence Institute
Featuring: Naomi Ansano, Denise Carter, Frances Davis, Tiffany Debellott, Althea Gonzalez, Emmalie Handley, and Shanita Jackson
March 5-21

COYOTE ON A FENCE
by Bruce Graham
Directed by Ashleigh Millett
"Does a lousy upbringing excuse heinous crimes? Is there room for mercy and repentance within the judicial system? And if Americans really knew the inhabitants of death row, would they want to see them die? Worthy questions…a provocative subject and a literate sensibility " —Variety.
Based on a true story. Illiterate but likable,Bobby Reyburn is a funny young guy who loves to do impressions. He's also a member of the Aryan nation, a racist predator convicted of a horrific crime. John Brennan is educated and arrogant, a serious writer who may only be guilty of doing society a favor. As each awaits his fate on death row, one evokes sympathy, the other derision. In vivid scenes, COYOTE ON A FENCE explores the disturbing question: Can one be innocent though proven guilty? This penetrating new drama offers no clear verdict, just utterly compelling theatre. The beneficiary of this production was My Daddy Taught Me That.
starring:  Courtney DeGennaro, Garrett Funk, Steph Hickling Beckman, and Sean David Robinson
June 4-21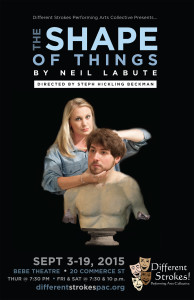 THE SHAPE OF THINGS
by Neil Labute
Directed by Steph Hickling Beckman
The Shape of Things is an intense  study of human relationships interestingly coupled with the ethics involved in the relationship of art and life. The beneficiary of this production was Reclaiming Beauty
September 3-19
THE BOYS NEXT DOOR
written by Tom Griffin
Directed by Steph Hickling Beckman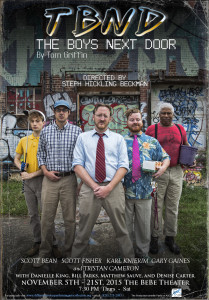 The Boys Next Door is a touching and humorous look into the lives and relationships between four male roommates with special needs, living under the watchful eye of a compassionate, but "burned-out," caretaker. Mingled with scenes from the daily lives of these four, where "little things" sometimes become momentous (and often very funny), are moments of great poignancy when, with touching effectiveness, we are reminded that the handicapped, like the rest of us, want only to love and laugh and find some meaning and purpose in their lives. Norman, who works in a doughnut shop and is unable to resist the lure of the sweet pastries, takes great pride in the huge bundle of keys that dangles from his waist; Lucien P. Smith has the mind of a five-year-old but imagines that he is able to read and comprehend the weighty books he lugs about; Arnold, the ringleader of the group, is a hyperactive, compulsive chatterer, who suffers from deep-seated insecurities and a persecution complex; while Barry, a brilliant schizophrenic who is devastated by the unfeeling rejection of his father, fantasizes that he is a golf pro. This poignant story draws a parallel between the perceived simplicity of these men's lives and the perceived complexity of the life of their social worker. The beneficiary of this production was Paws on ASD
Starring Scott Bean, Scott Fisher, Karl Knierim, Gary Gaines, and Tristan Cameron,with Bill Parks, Danielle King, Matthew Sauve, and Denise Carter
November 5-21