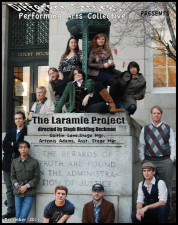 Written by Moisés Kaufman and the Members of Tectonic Theater Project
Directed by Steph Hickling Beckman
Featuring: Mandy Bean, Scott Bean, Jeremy Brett Carter, Kirstin Daniel, Jonathan Milner, Patrick Hackney, Rod Leigh, Peter Millis, Carla Pridgen, Jim Slautich, Hope Spragg
"The Laramie Project is a play by Moisés Kaufman and members of the Tectonic Theater Project about the reaction to the 1998 murder of University of Wyoming gay student Matthew Shepard in Laramie, Wyoming.The murder was denounced as a hate crime and brought attention to the lack of hate crimes laws in various states, including Wyoming. The play draws on hundreds of interviews conducted by the theatre company with inhabitants of the town, company members' own journal entries, and published news reports. It is divided into three acts, and eight actors portray more than sixty characters in a series of short scenes.
Nonprofit beneficiary: Youth OUTright
December 1-10, 2011
---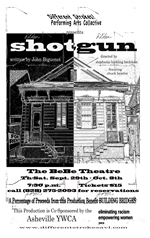 Written by John Biguenet
Directed by Steph Hickling Beckman
Featuring: Chuck Beatty, Gary Gaines, Angela Joyce Green, Jake Macnair, Peter Millis,
"In Shotgun, set four months after the collapse of defective levees in New Orleans, a white man and his teenaged son, having lost their house to the flood, rent half of a shotgun duplex from an African-American woman, whose father has lost his home in the Lower Ninth Ward and moved in with her. Even living under one roof, though, they find a wall still runs between them. Shotgun won a 2009 National New Play Network Continued Life of New Plays Fund Award and was a 2009 recipient of an Access to Artistic Excellence development and production grant from the National Endowment for the Arts. It has had a number of productions nationally".
September 29-October 8, 2011
Nonprofit beneficiary: Building Bridges of Asheville
---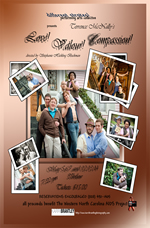 Written by Terrence McNally
Directed by Steph Hickling Beckman
Featuring: Joseph Barcia, Scott Bean, Jeremy Brett Carter, Patrick Hackney, Rod Leigh, Jonathan Milner, Trevor Rayshay Perry.
At a beautiful Dutchess County farmhouse, eight men hash out their passions, resentments and fears over the course of three summer weekends. There's Perry and Arthur, a professional couple of long standing, whose relationship, while strained, always manages to settle into the loving routine of a couple grown too familiar with one another, but happily so. The owner of the summer house, Gregory, is an aging choreographer who dotes on his younger lover, Bobby, who is blind. Their relationship seems solid, until an irresistible dancer, Ramon, callously flaunts his sex appeal and manages to seduce Bobby on the first night in the house. Trying to keep Ramon to himself is John Jeckyll, a soured ex-patriot Brit with a taste for melodrama—and cruelty. John rankles everyone around him, speaking the unspeakable in haughty nonchalance while probing the weaknesses of the others. The painful truth about his ire eventually becomes clear when he has to take care of his terminally ill twin brother, James. Unlike John, James inspires nothing but affection in those around him, and here lies both the crux of John's complaint and the source of one of the play's most blistering and revealing of monologues about the related questions of gay identity and self-esteem. Finally, there is Buzz, a maniacal lover of the musical theater. Like James, Buzz suffers from AIDS, and he has resigned himself to a life of humorous anecdotes and comforting trivia. Strange things can happen, though, and against all odds, Buzz finds himself falling in love for what may be one last summer.
May 5-14, 2011
Nonprofit beneficiary: Western North Carolina AIDS Project
---
Sharing is Caring!