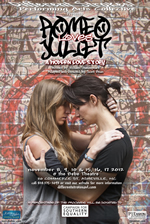 by William Shakespeare
Directed by Scott Bean
Featuring: Joseph Barcia, Mandy Bean, Lochlan Belford, Dwight Chiles, Robert Edwards, Patrick Hackney, Dahlia Legault, Hanna Rechtschaffen, Trinity Smith, and Jason Williams
The Bard's Classic love story, Romeo and Juliet, with a slightly different orientation.  Back in Shakespeare's day all the parts were played by men, so it's probably high time for both of the famous roles to be played by women. Turning Romeo and Juliet's love affair into a same-sex romance.  Different Strokes! production, like Shakespeare's original, is a play about forbidden love; which made it the perfect vehicle for .  of this a direct response to Prop 8 and defense of marriage acts.
Nonprofit beneficiary: The Campaign for Southern Equality
Nov. 8-17, 2012
---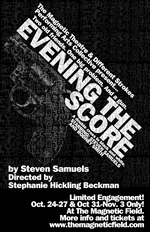 Written by Steven Samuels
Featuring: Steven Samuels, and Rodney Smith
(Co-Produced with The Magnetic Theatre)
Evening the Score is a provocative drama about college friends separated by an act of betrayal and reunited decades later by circumstances that push both to the brink. The show delves into issues of race, religion, class, drugs, the law and political ambition with breathtaking – often brutal – honesty, focusing matters of local, national, and political import through the prism of a single, complex human relationship.
October 24-November 3, 2012
---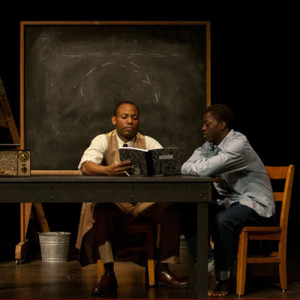 Written by Romulus Linney
Directed by Steph Hickling Beckman, and Scott Bean,Co-Director
Featuring: CJ Breland,Gary Gaines, Hamilton Goodman, Patrick Hackney, Jacquelyn Hallum, Victor Hough, Emily Knust, Stephany Nezo,Horus Runako, James Slautich, Noah Tanner,
Based on the novel by Ernest J. Gaines' 1983 novel of the same name, A Lesson Before Dying is centered around an innocent young man wrongfully found guilty of murder and sentenced to the death penalty. The play raises questions of justice, humanity and self-respect. *We performed two versions of this play in rep — one with a traditional racial makeup, and another with the play's racial makeup reversed.
Nonprofit beneficiary: YWCA of Asheville's, Stand Against Racism
May 4-13, 2012
---
Sharing is Caring!